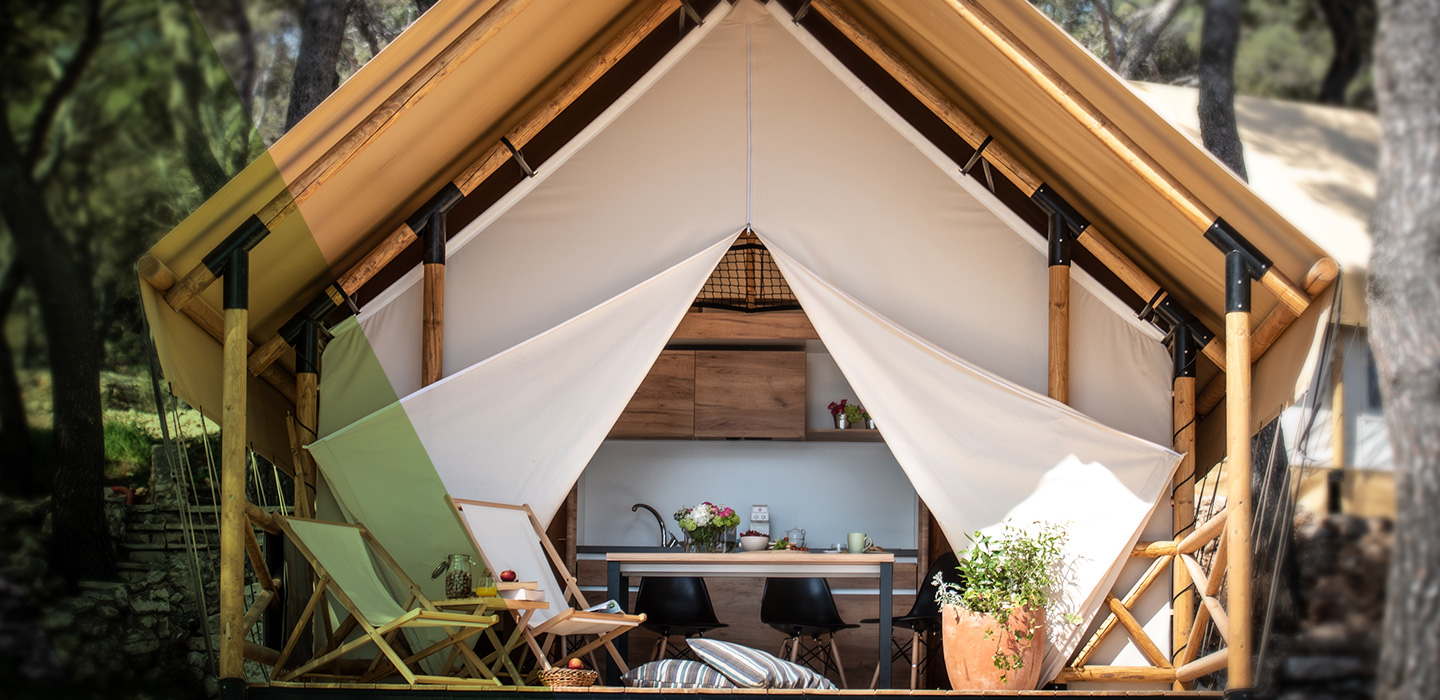 Romantic Glamping for Couples at Arena One 99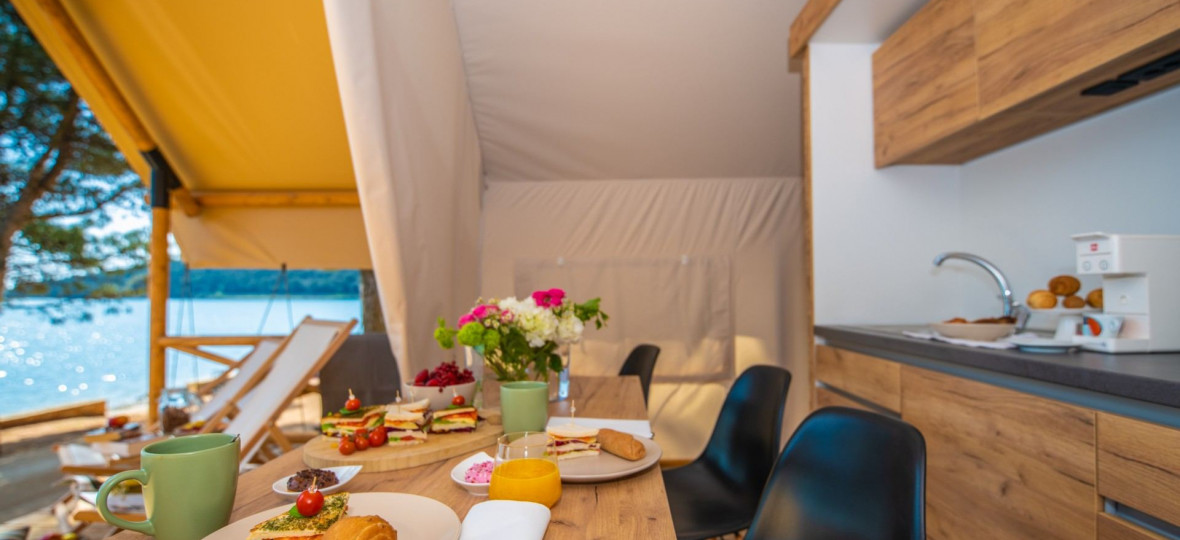 A glass of champagne, a porch in the woods, views of the sea, the starry sky, and just the two of you! What spells romance better than this? Arena One 99 poses superb conditions for romantic glamping for couples. It has a gated, carefully manicured luxury camping site with designer tents hidden from prying eyes, perfect for couples seeking seclusion and peace.
Imagine spending a romantic vacation in a cosy lodge decorated with flair and style to give you all the comforts of a posh resort with the proximity to nature that soothes the soul. You relax outdoors, either exploring the wilderness of Pomer, meditating or doing yoga on the wellness deck, or bathing in the sun by the sea. As the day wanes you sleep on a soft, king-size bed, pampered in crisp linen. Perhaps you are the adventurous type? There are many things you can do as a couple when you come glamping at Arena One 99: windsurfing with slalom champion Dalen Geromella, kayaking on the Adriatic Sea, partaking in our themed events, hiking Kamenjak, cycling, balancing on the waves with our SUP workshops, and the list goes on. There's never a dull moment at Arena One 99.
And that's not all. Arena One 99 is the perfect glamping getaway for couples. Whether you are looking for a honeymoon destination or you are celebrating an anniversary, Pomer's delightful setting on the Istrian peninsula gives you a natural environment beyond compare to treat your better half. Special occasion or not, you will fall in love with the glamorous facilities of our camping grounds: outdoor hot tubs and sauna, five-star level beach bars, fine dining, and other VIP-worthy conveniences. Plus, the fancy tent accessories further the splendour of your romantic glamping escapade.
To make your luxury camping adventure even better, you even have complimentary WiFi hare to share with your dear ones the special moments that make your glamping vacation in Croatia truly unique.
Here are some of the top reasons to choose Arena One 99 as a romantic glamping getaway:
To rekindle romance – date nights are better close to nature.
To spend a romantic vacation outdoors.
To forget the worries and the hassle of the daily routines.
To find the perfect spot to propose.
For a hen or a stag escapade with wild outdoors thrills – windsurfing is more challenging than it looks.
To reconnect with each other mindfully: we have a yoga and meditation deck designed just for this.  
Whatever your intent, glamping brings a (solid) touch of luxury to camping, and it is suitable for all, especially for the more romantically inclined.