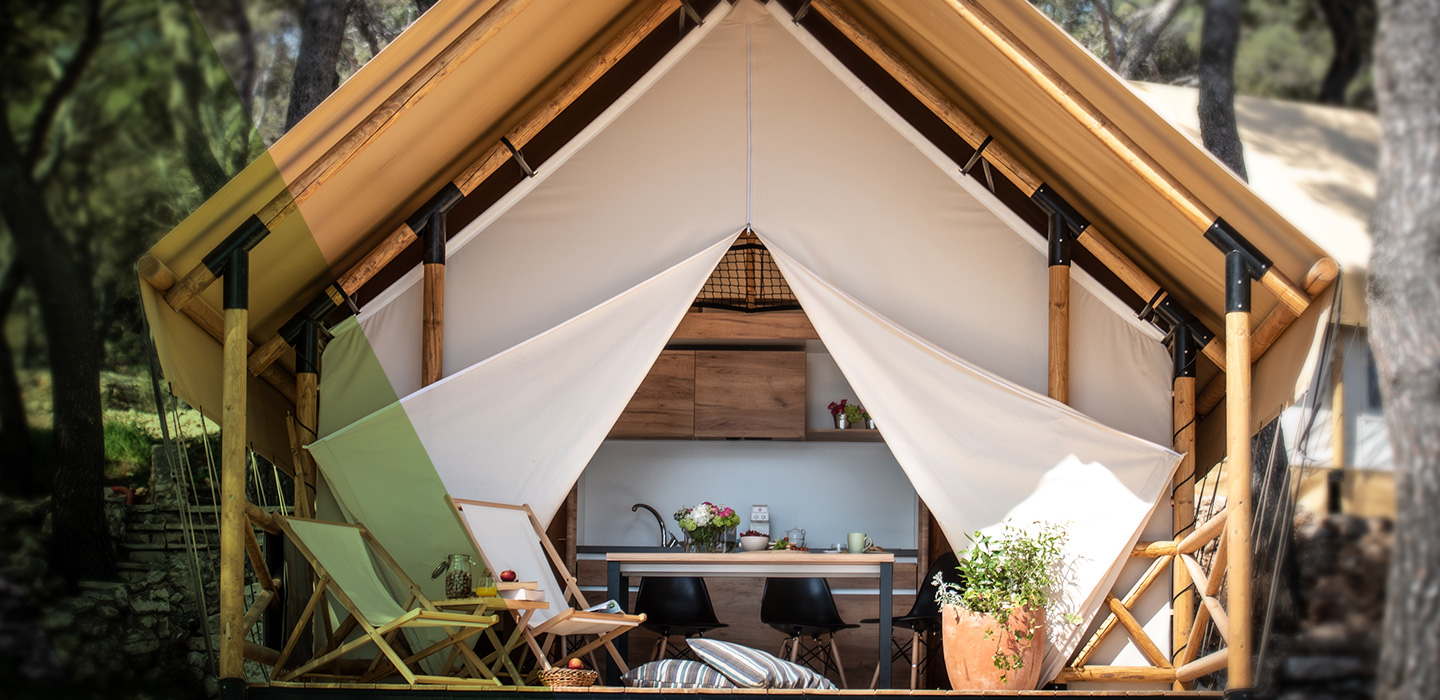 Glamping Experience in Croatia: Arena One 99
Croatian glamping experience: luxury camping in Istria
Thomas Hiram Holding has never envisioned camping as a posh experience. The father of modern camping and author of The Camper's Handbook (1908) camped in the wild carrying around just basic essentials like a liquid fuel lantern, clothing, and a tent. He believed in "active and literal" camping, the kind that puts the camper as close to nature as possible.
"There is rather a grave aspect of camping: to begin with, it has a rather broadening effect on a man's mind. There is nothing that is more of an eye-opener, so to say, than active and literal camping."
This was all at a time when there were no campsites and when tents were used for camping out of mere necessity by archaeologists and other explorers like them. Holding pioneered camping for leisure, highlighting some of its most important benefits in his book in 1908 and it's surprising how many of them still hold true today. What does the camping experience do for you? Paraphrasing Holding:
It gives you a new incentive to independence
It gives you greater freedom
It affords rest of mind
It is recreative
It teaches patience and tolerance with other people
It takes you away from the toils of business
It revives your taste and love for the countryside
It allows you to introduce your family to a new and innocent pleasure
It furthers geographical knowledge
It adds to your physical activity
It is an educational force
The list goes on, and a question arises: is the glamping experience equally beneficial as literal camping? In many ways, yes. But the Arena One 99 glamping experience in Pomer has a few added benefits:
It's just like camping, but without "roughing it."
It's fancy yet close to nature.
It is a safe, vehicle free, enclosed area that fosters peace of mind.
It has pristine sunbathing areas on the beach.
You can relax in a hot tub under the skies.
It's a serene oasis to reconnect with your inner self.
You can do yoga and meditate on the wellness deck.
You can do SUP yoga if you feel more energetic.
It has jogging and cycling trails for the active camper.
It has a windsurfing school to get your adrenaline levels high.
It welcomes little campers with all kinds of glamping activities.
It's perfect for family glamping. 
Top things that make your glamping experience at Arena One 99 unique
Arena One 99 provides the best glamping experience in Croatia. We are pioneers: there is no other glamping resort like this in the country. So here are the top things that make the glamping experience with us truly unforgettable.
It's a gated glamping community providing seclusion from tourist crowds and a safe, tranquil environment to relax or play.
Designer tents with fancy amenities for an added plus of comfort: free WiFi, air-conditioning, private verandas, ILLY espresso machine, clean bedding every day, and so on.
Dedicated well-being activities for all ages: yoga, meditation, windsurfing school, themed events, jogging, beach sports, and much more.
Pampering spa, massages, and hot tubs under the skies.


A mystical setting in an area favoured by the ancient Romans (Pomoerium) who built the harbour here, then spas, aqueducts, and lavish villas.
Great for families and spot on for honeymooners and couples seeking romance too.  
Mindful of the needs of little campers.
Pet-friendly and just brilliant all in all.
Whatever brings you close to Pula, Arena One 99 is the glamping experience you don't want to miss: you'll be just four kilometres west of Medulin and about eight kilometres south of the port town of Pula, the perfect location to begin exploring this part of the Istrian peninsula. Come glamping! It will change the way you experience travel forever.
I don't see it in the description, but I suspect you have it. If not, delete the sentence.