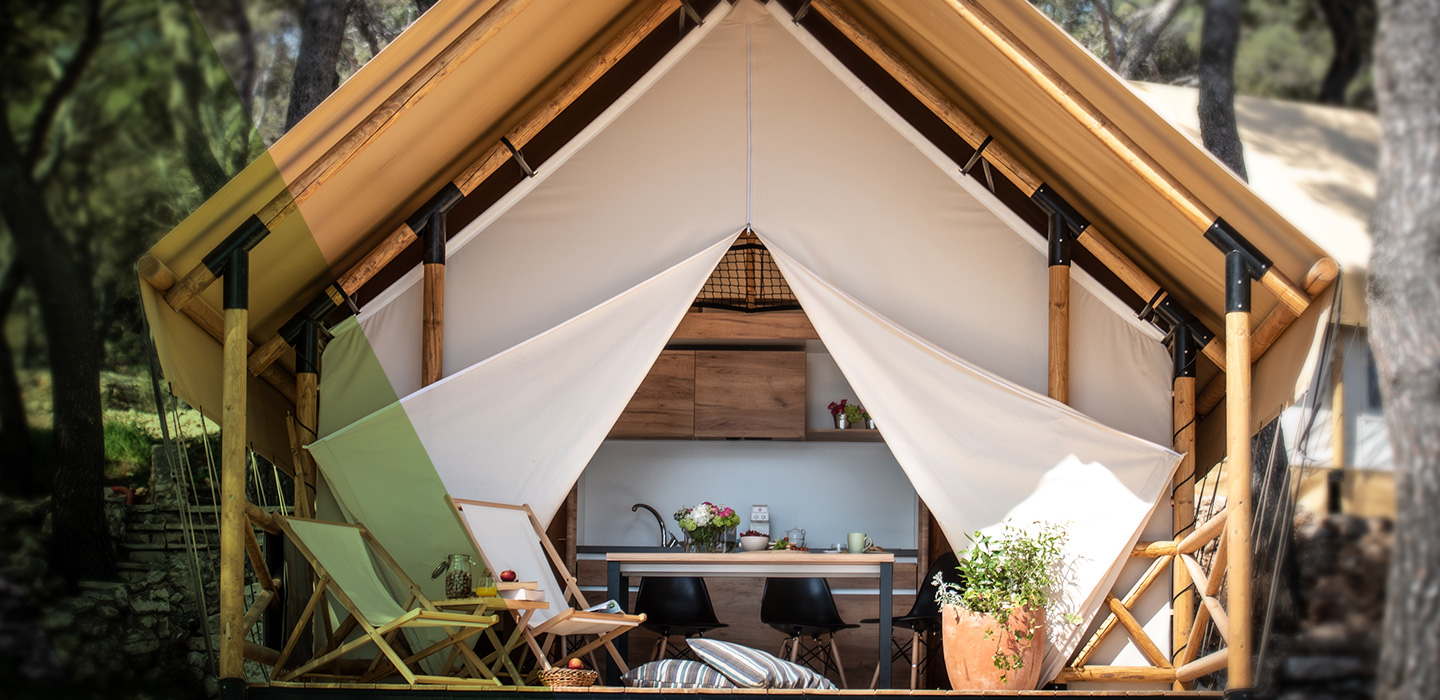 Discover the Luxury Tents at Arena One 99 Glamping Resort
A premiere in Croatia, Arena One 99 is a luxury resort that boasts 196 glamping tents furnished with great care to provide matchless comfort in nature. The site stretches over more than four hectares in the pine forest of Pomer on Istria's peninsula, just four kilometres from the famed Medulin Riviera and close to ancient Pula.
The entire glamping site is designed for your comfort: it's a place to commune with nature and to forget about the worries and the demands of everyday life. A gated car-free sanctuary, Arena One 99 is genuinely unique: the refreshing fragrance of the pines purifies the air and the sea that shapes the land brings well-deserved balance to your holiday escape in Croatia. You are camping, but all the comforts of modern-day living are provided in every tent: air conditioning, complimentary WiFi, LCD flat screen TVs, illy espresso machines, fully-functional kitchenettes with microwave, refrigerator, induction hob and other essentials amenities.
Our tents are designed to impress, decorated in natural tones that blend well with the scenery, offering ample room to relax and to enjoy a carefree holiday in the heart of nature.
Arena One 99 boasts seven types of tents suitable for couples and families, as well as for groups of friends who want to discover the natural wonders of Istria like a camper but then rest in a comfortable bed with fresh linen after an active day outdoors. Our glamping site is also ideal for those who just want to relax and meditate: the wellness area in our lovely seaside grove will inspire you to spend hours of idle bliss in nature.
All the facilities of a world-class luxury resort are here: beach bars, sauna and hot tubs under the stars, a rain room, plus a plethora of pursuits for body and mind. On the wellness deck, you can meditate, do yoga, corrective gymnastics, and other activities to reduce stress. We have a windsurfing school suitable for all skill levels. The beach is inviting you to swim, walk, and take in the full magnificence of the Adriatic Sea, which here glitters like magic under skies. Pomer is also famous for its mussels, and the local cuisine is a foodie experience per se. Last, but not least, little glampers will love the themed playground with its lovely white teepees. The animation program is creative and full of surprises for glampers of all ages.
Here are the tents that will make your stay at Arena One 99 a posh, unforgettable experience.
GLAMPING TENTS
RESERVE YOUR PLACE UNDER THE SUN