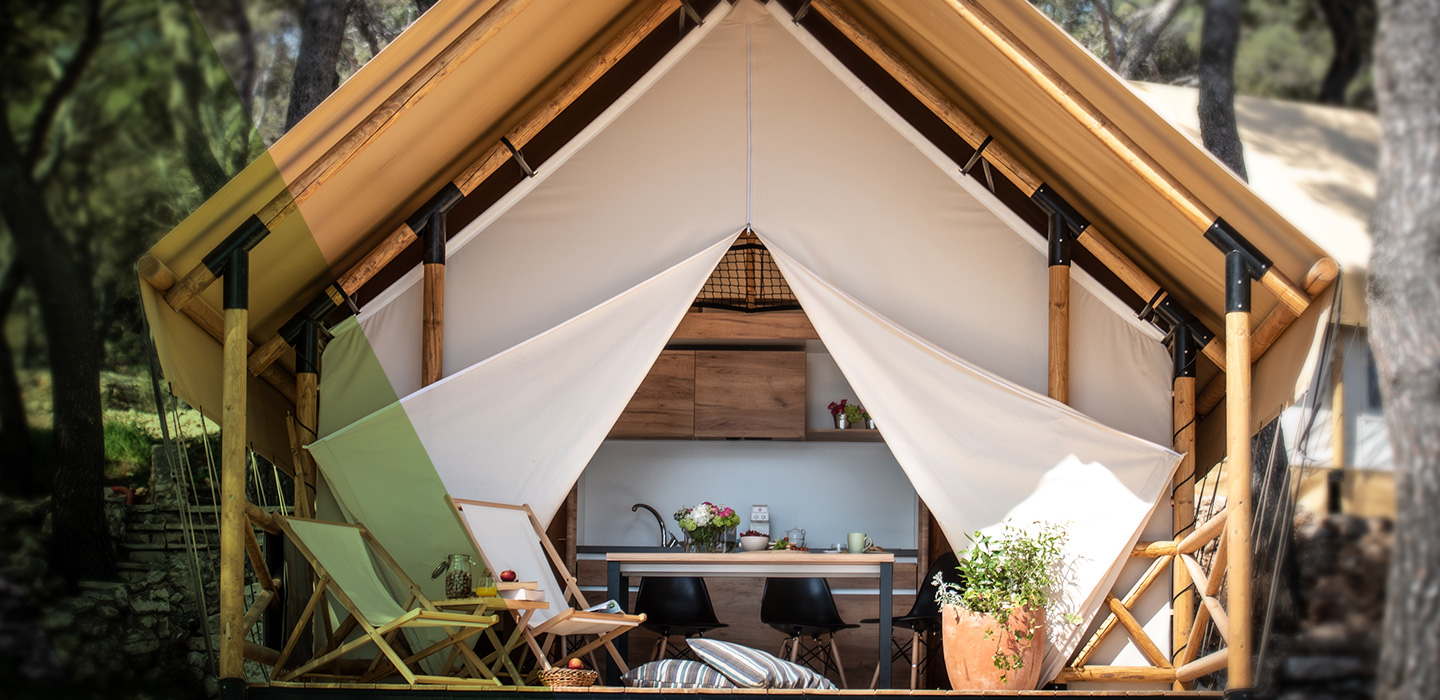 Luxury Camping Benefits at Arena One 99
Glamping is a lifestyle for many people. It's the best way to enjoy being close to nature without compromising on the comforts of modern life. With Arena One 99, it is the first time you can go luxury camping in Croatia. There is no other glam campsite like this in the country. Here are some of the reasons why you should come glamping in Pomer:
Arena One 99 has a wellness deck for yoga and meditation.
It has hot tubs under the sky for the ultimate relaxing experience outdoors.
It has ample playgrounds and games for the little ones.
It challenges your spirit of adventure with a windsurfing school.
You can partake in all kinds of sporting activities by the beach.
It has sun-kissed beaches and a shady forest with hiking and cycling trails.
It offers posh dining in elegant restaurants.
It has a green market and grocery store for glampers who prefer homemade foods.
It offers concierge services just like a five-star resort.
Glamping has numerous benefits for your body and mind: you get all the fun of camping, without roughing it. Paraphrasing what Thomas Hiram Holding said in The Camper's Handbook in 1908 about the joys of camping, glamping gives you a new incentive to independence, greater freedom, rest of mind, and revives your love for nature. In fact, glamping enhances your connection with the glorious outdoors and affords an unforgettable experience for the entire family. When you go glamping, you enjoy all the benefits of traditional camping but in luxury and style.
Glamping means that you stay in a luxurious tent, with a comfy king-size bed covered in quality linen, and designer furniture that makes you feel good. You also get a fully functional bathroom with a shower – a great way to end your day exploring this part of Istria. With Arena One 99 glamping in Pomer, you have air conditioning and all kinds of other comforts designed to make you feel like a VIP.
Arena One 99 is a great place to spend a summer vacation. It's a gated community where the little ones can play safely. You have a stress-free environment to connect with nature. You can swim, hike, windsurf and explore, or you can just relax and lay back, meditate or do yoga on our wellness deck. The natural setting of Arena One 99 is Instagram-worthy as well. Whatever reasons we can count to inspire you to come glamping in Pomer, you will surely find more when you are here.