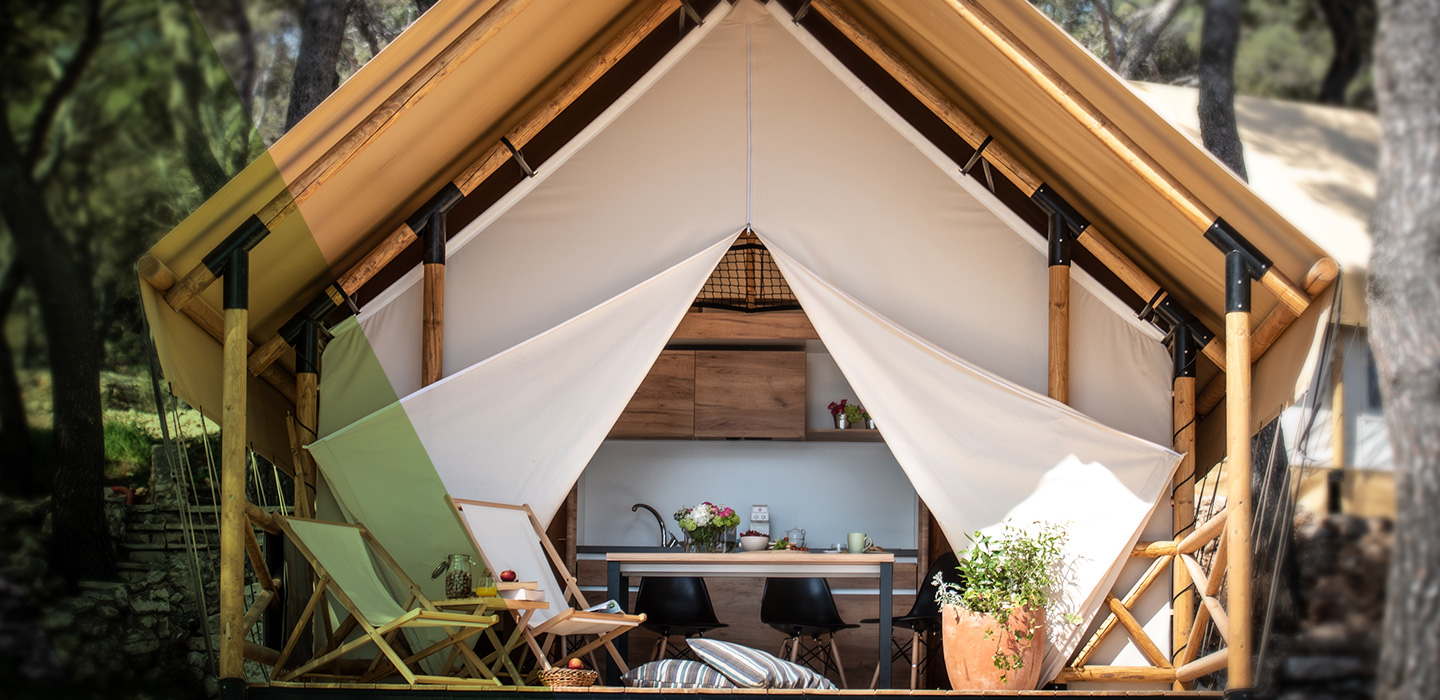 First Luxury Glamping Resort in the Country
This is Pomer. A settlement known for generations for its generous nature that inspires the wandering spirit in every traveller with pine forests on a peninsula shaped by the sea. A place of rediscovery where you can either lay back and let the world pass you by or seize every day like a new adventure. Whether you love walking along the beach or taking in the magnetic force of the forest, glamping in Pomer will satisfy you.
A gated natural sanctuary, the glam site in Pomer is perfect for families with children or couples seeking seclusion. It is an ideal destination for romantic vacations or active pursuits, offering something new to see and do every day. It has diverse attractions for all ages, from themed games for the little ones to daring windsurfing adventures with Dalen Geromella, winner of the Adria and Croatian Cup in slalom.
The main reason to go glamping in Croatia is to discover the true character of the country in luxury and style. Arena One 99 is a coastal glam site where the pace slows to a steady ebb as you take in the beauty of the abundant natural landscape of Pomer. And there's plenty to explore: you can hike Kamenjak or go sailing down the Medulin Bay. Pomer's marina is one of the fairest of the land. Our glamping site in Croatia is peaceful and serene, a charming spot under the sun for those who love the seaside and the verdant greens of the forest at the same time. You are by the glistening sea, away-from-it-all, in perfect communion with nature. Here are some of the top reasons to go glamping in Croatia:
It's a great European adventure

Pomer's natural beauty is beyond compare

You are minutes away from Pula, named by The Telegraph Croatia's uncrowded alternative to Dubrovnik

You are right on the Medulin Riviera.

Kamenjak with its spectacular hiking grounds is minutes away.

It's a great foodie experience (Pomer is famed for its mussels)

It fosters opportunities for all kinds of outdoor escapades: hiking, cycling, horseback riding, sailing, swimming, fishing, sunbathing, and the list goes on.
Whatever your reason for glamping in Croatia, Arena One 99 is a glamping slice of heaven.